cippe2019, delivering fresh impetus for the future
The trade fair brought together 1,800 exhibitors from 65 countries and regions, among which 46 enterprises were from Fortune Global 500. Highlighting its importance as the world's leading petroleum and petrochemical exhibition, cippe2019 will welcome all participants on 27-29 March 2019 in Beijing, China.
Featuring 117,000 visitors and 18 international pavilions, cippe reflects the entire value chain of the petroleum industry, from offshore oil & gas, explosion proof, pipeline, transportation, safety through to shale gas tech.
Be Part of cippe2019
Exhibiting at cippe2019 establishes you as a member of a thriving petroleum community, which enable you to learn about other facets of the industry and your competition while building your own business.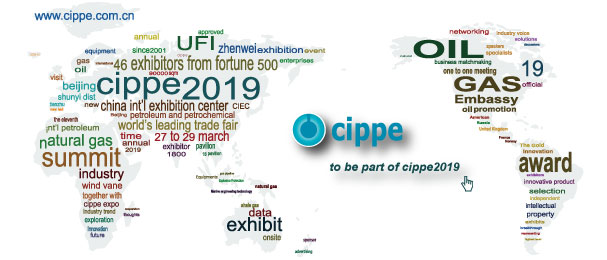 More than an Exhibiton
The cippe2019 is more than just an exhibition--it's a world-class platform where you can talk with 1800+ exhibitors and 117,000 visitors. Check out the offerings and don't miss your chance at socializing, networking, learning, and more.
Exhibitors

You're receiving this newsletter because you subscribed to our mailing list or registered on our website.
To unsubscribe if you no longer wish to receive.
Contact: Fu Defeng  Tel:+86-10-56176938  Fax:+86-10-56176998
E-mail:fdf@zhenweiexpo.com  Mobile:+86-135 0134 8096